Printed by http://goettingen.city-map.de/city/db/010902011301/old-town-hall-in-goettingen
Old town hall in Goettingen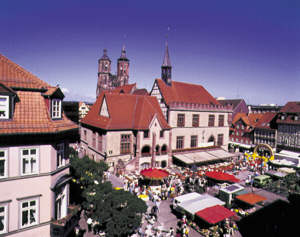 Image Copyright: Stefan Scheiter
 The building of the old town hall started in 1270. It was used by the senate and the merchant guild. But also as a dancing hall and wine cellar. It was enlarged to its present size in 1369.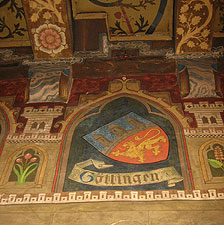 Image Copyright: Anita Skiba

Well worth seeing are the wall paintings in the, by only two pillars suppored hall. THe Hannover history painter Hermann Schaper created the interior. The wonderful drawings point to the different administration function, like the registry office, telling the history of  Göttingen and of the virtues like: equity, prudence, piousness, love of fatherland.
 
Image Copyright: Anita Skiba

Tours start here:
Fremdenverkehrsverein Göttingen e.V.
Altes Rathaus
Markt 9
Tel. 05 51 - 49 98 00
Fax 05 51 - 4 99 80 10
Opening times
Mon-Fri 9.30am-1pm, 2-6pm
Sat 10am-2pm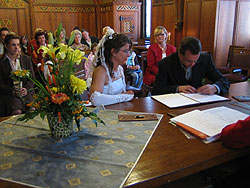 Image Copyright: Anita Skiba

Its not that long ago, that couples can be married again in these historical bilding. The historical hall of the ols town hall is used for concerts and readings. Travellers will find the tourism information office in the old town hall.

The historical rooms of the old town hall are available for marriage ceremonies. Get in touch with the Standesamt (registry office) in the new town hall, Standesamt, 37083 Göttingen, ground floor adjacent building, phone: 05 51 - 400-31 01, Fax 05 51 - 400-31 00